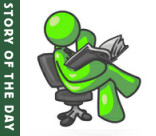 Our next 'Story of the Day' is
Late Night at the Train Station
by
Totzman
which has been recommended by LSF member,
islandcarol
:
"
I would like to nominate "Late Night at the Train Station" by Totzman as story of the day. There is little in this story forced or contrived. I was intrigued from the first moment our main character walked into a train station and noticed a billboard of a beautiful model clothed only in red silk panties, her tush facing the camera, her face turned toward the camera.

The story unfolds lazily and our hero and this luscious creature meet on the train one evening and have a brief conversation and a lovely interlude.
"
Synopsis:
Ben has been working late and at the train station on the way home he admires the poster of a girl clad only in red panties and makes a note to try and find out her name. On the train, there is only one other person in the carriage. Veronica approaches Ben and asks if she has missed her station stop at Hollander and Ben assures her she hasn't. Looking at her, Ben recognizes her as the model in the red panties on the poster. Veronica and Ben chat and then Ben finds out Veronica would like to be spanked but never has been. They go to Veronica's hotel room and Ben shows her what a real spanking is.
synopsis by dundee47