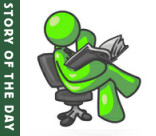 Our next 'Story of the Day' is
Cinderella
by
Malahide
which has been recommended by LSF member,
Opb
"
If you like your story characters self knowing and quirky this one is for you. In fewer than 500 words the author packs in some good laughs and slapstick – no, wait, it's not he stick that gets slapped, it's...

There's more than a whiff of Jeeves and Wooster here, except that the Prince is not so helpless as Wodehouse's hero. We can predict the way the conversation between Prince and valet is going to go; this is a spanking story after all, but the flagging of the laughs only serves to enhance their effect.
"
Synopsis
A variant on the well loved fairy tale. The prince landed a smack on Cinderella as she left the ball and a year on wants to repeat the experience. Dandini has a cunning plan to achieve this.
synopsis by Lincoln